The Holiday Edition of the Core Values Game, is for contemplation, connecting conversations, and a good atmosphere!
Holiday edition Core Values Game
For organisations as a Christmas present
For families
For groups of friends
Price:
Excluding shipping costs.
Holiday edition Core Values Game
The holidays at the end of the year are meaningful for many people. The short, dark days give us a need for cosiness and warmth, for being together as a family and with friends. There are many opportunities to talk to each other with real attention, because we do not have to go to school or to work. We enjoy festive meals together, or drinks by the crackling fire, perhaps even walk together in the fresh air.
It is also a period of stillness and introspection. We think about our own feelings, our behaviour and about the future: where do I stand, what do I find important and what am I going to do in the year ahead? What are the real values in life and how do I deal with them?
In many families, games are played during the holidays. Not online, but with each other around the table, relaxing and being together in unity.
Especially for the holidays, there is a Holiday Edition of Core Values Game, which contributes to connection, reflection and a nice atmosphere in the special period around Christmas and New Year's Eve.
The game is only available in Dutch.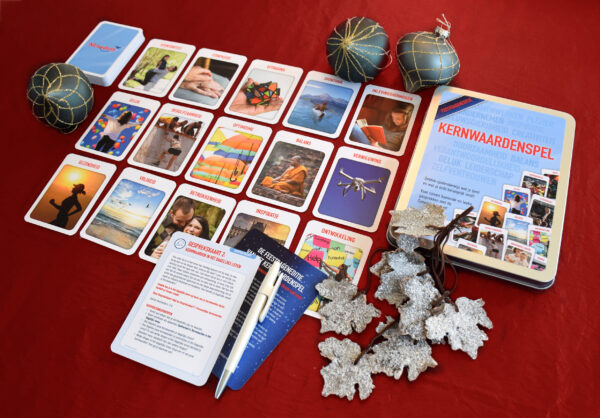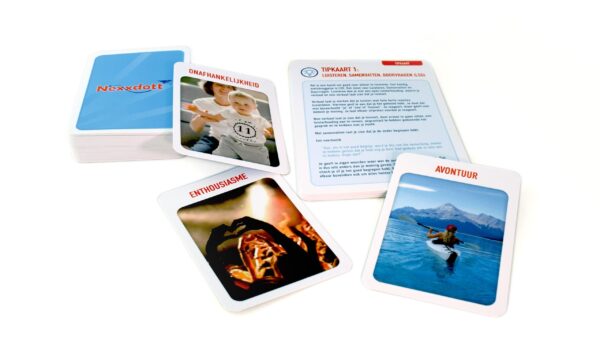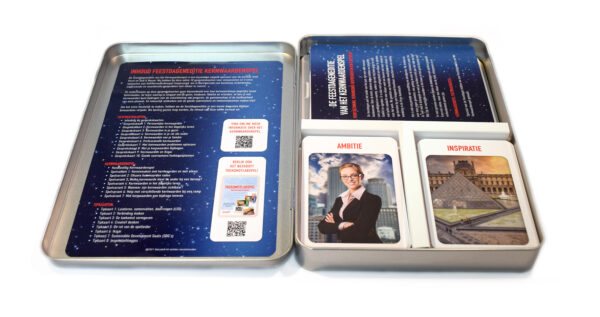 What does the Holiday Edition consist of?
The beautiful and durable tin storage box contains the following:
The Core Values Game with 60 Core Values Cards with which around the table each other's core values are discovered, discussed, and applied in various situations while playing. It makes everybody think about "Who am I, what am I capable of, and what is important to me?
The 7 Game Variants lead to a lot of game fun and in-depth conversations between young and old, on an equal footing. There are also 5 Tip Cards in the game, for example on how to listen well and ask deeper questions, connect with each other and learn to think creatively.
The Core Values Game creates a connection between young people and adults and is a fun and pleasant way to pay attention to each other!
A set of 10 Conversation Cards, especially for adults, to engage in a special conversation with each other during the holidays about the core values you find important and how they affect your own life and living with others. It yields surprising and new insights. You get to know each other in a completely different way, even if you have lived together for years and think you know each other inside out. More understanding and appreciation for each other arises and that leads to connection.
Three Tip Cards have been added to the Conversation Cards, for extra depth in the conversations, for example about how you can contribute to society and a liveable planet.
Alternate!
It is fun and fascinating to alternate the seven Game Variations of the Core Values Game with conversations based on the Conversation Cards. In this way, the core values of the family can come back into the conversations between adults on the basis of the Conversation Cards and vice versa.
It makes you stop and think about what is important to you and gives you beautiful insights into how others see you.
So nice to play this with your family, you know each other well and yet this brings about a conversation that is different from usual.
It has a deepening and binding effect, and gets the conversation going in an intimate atmosphere.