FutureLab Game
For secondary schools and higher education

For deans and mentors

For career coordinators
Price: € 54.95 including VAT, for customers in The Netherlands. Price on request for customers abroad, please use contact form.
Excluding shipping costs.
The Future Lab Game®
FutureLab is designed to inspire young people to think about their future and find answers to the questions Who am I?, What am I capable of? and What do I want? Through FutureLab many young people discover what they want to do later on. It leads to young people being "on" and thinking much more consciously about what they (want to) learn at school and what choices they make.  
Now there is also a FutureLab Game®. By offering FutureLab in the form of a game, a great many young people in secondary education and in further education can discover in a playful manner what interests them and what future possibilities they would like to know more about. The FutureLab Game® contains 3 team games, in which players inspire each other to think about their own interests, important questions for the future, and sustainable development goals. The game is linked to the Sustainable Development Goals (SDGs) of the United Nations because the future of young people depends on a liveable planet.
If you would like an overview of all the SDGs with a brief explanation, please request for it here.
I like to offer optimal flexibility. The FutureLab Game is available separately, but is also, together with the Core Values Game® part of FutureLab. Schools can choose to organize an FutureLab at school, but can also combine the FutureLab Game® and the Core Values Game® separately and without FutureLab with already existing career guidance programs or other lesson programs, for example with citizenship lessons, mentor lessons, or as part of a project week.
The game can be played from age 12, with teams of up to 4 players. One game contains content for 4 teams (16 players).
The first edition of the Future Lab Game can be delivered in the next months. 
  Game content: 
4 sets of 3 different Team Games
1 Teacher's Guide
4 Instructional Cards: What makes a good Future Question?
60 Photo Cards
4 sets of 17 SDG Cards
4 sets of 2 x 6 Question Cards
4 sets of 2 Key Cards
4 sets with 1 Slot Card
6 Tip Cards
4 dice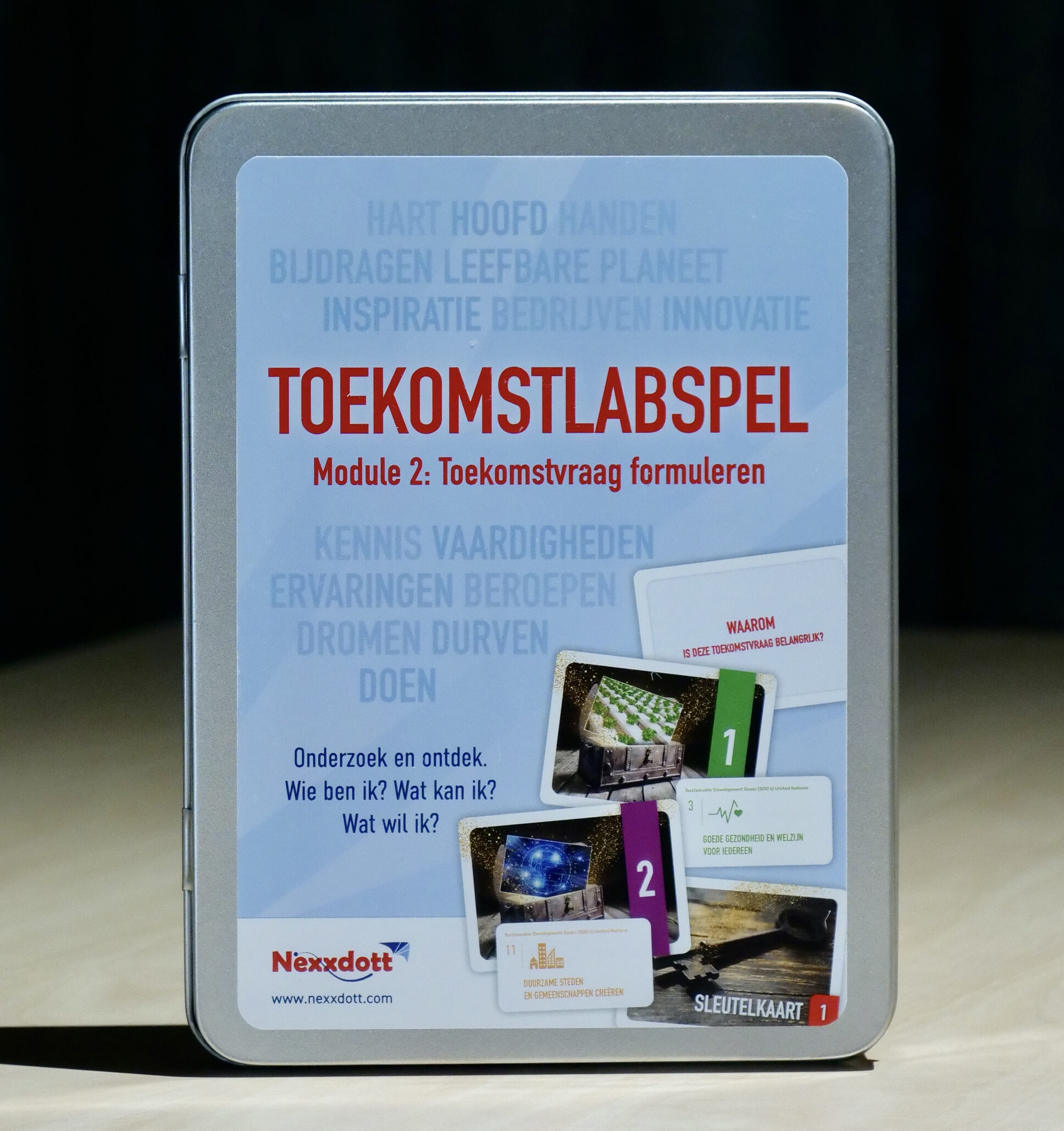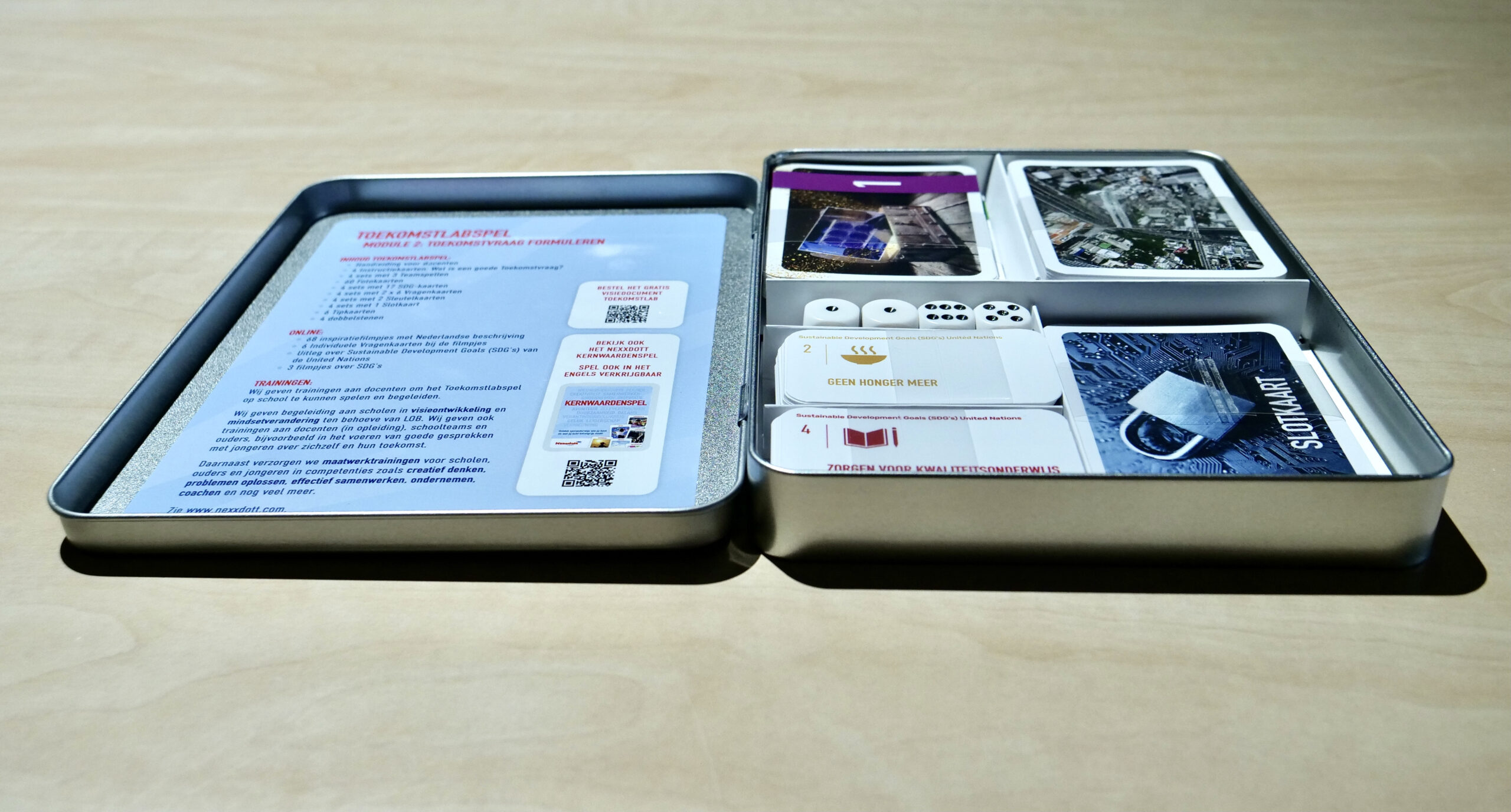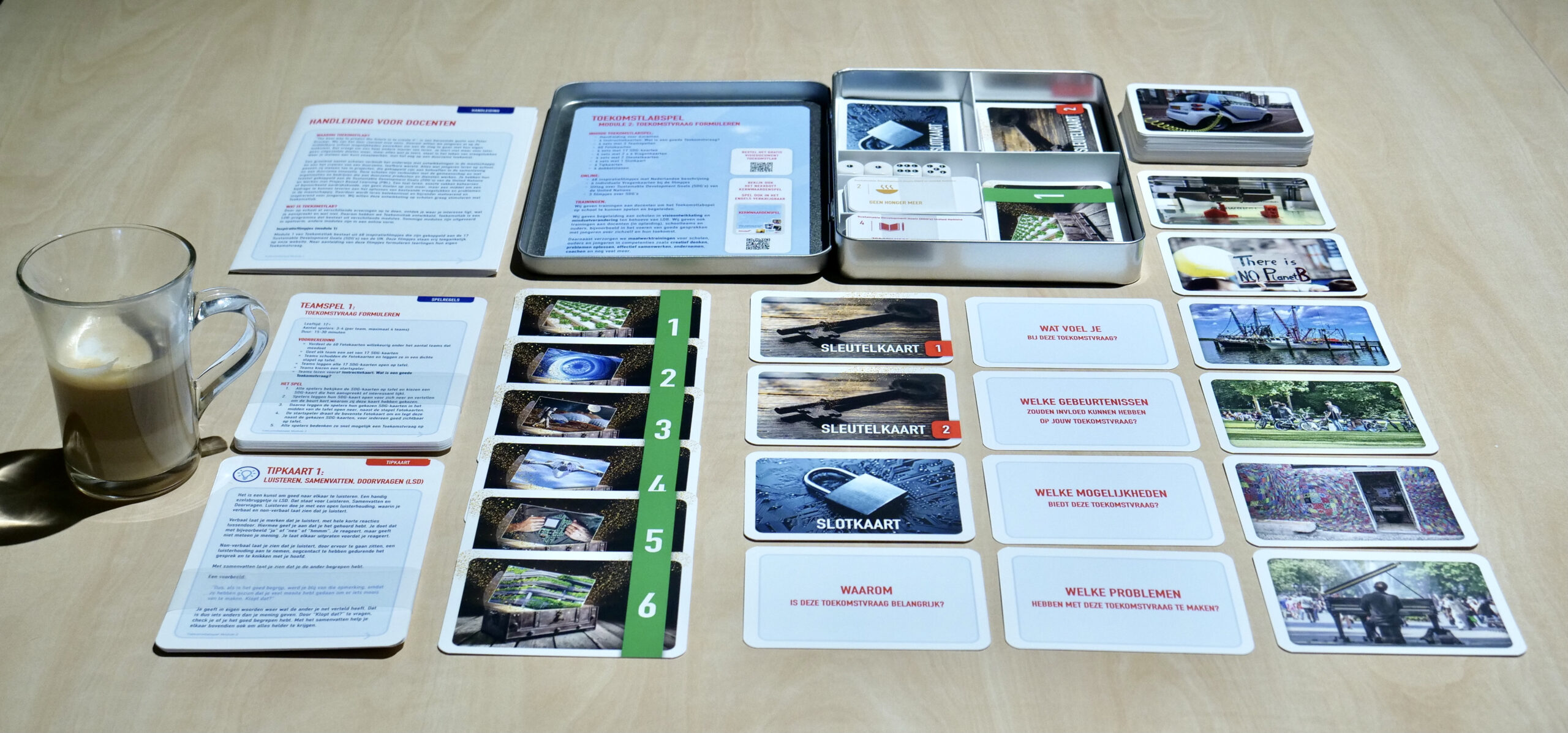 FutureLab At Koning Willem I College with Future Lab Game
Nexxdott recently gave a Mini-FutureLab at the Koning Willem I College in Den Bosch. The Future Questions that the students formulated as a result of the Inspiration videos in the Mini-FutureLab showed how deeply young people think about social problems and sustainability issues.
Using the Future Lab Game®, students engaged in helping and inspiring each other to think about many aspects of their Future Questions.
I found the game very inspiring
It did make you think about the future
I really like talking about the future like that

I would like to know more about a possible answer to my Future Question