The best way to predict the future is to create it.
- Peter Drucker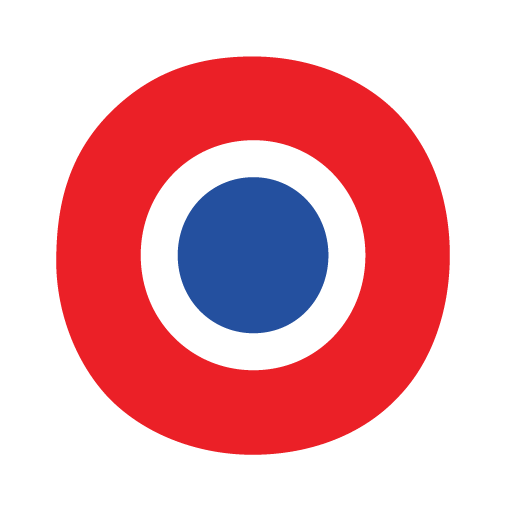 FutureLab
For secondary schools and higher education

For parents with teenagers

For Career Guidance and Orientation counsellors
Why FutureLab?
Between the ages of 12 and 18, young people have to make a number of choices that will determine their future, such as education, level of education, choice of profile with corresponding subject package and choice of further study and profession. This is very difficult when you are still developing, your brain is far from mature and you have so little life experience. Moreover, the world is changing rapidly because of climate change, technology and globalization. Choices made now are very quickly outdated in tomorrow's world.
We need to give young people opportunities already in school to work on their future and contribute to a liveable planet. That's why I developed FutureLab.
FutureLab, a special Career Guidance and Orientation program
In FutureLab young people are stimulated to think about their future with the help of films, games, active forms of work and creative thinking techniques. They are inspired by getting to know developments, innovations and new initiatives in various (work) fields and industries. Based on that they formulate their personal Future Question, and search for answers on the internet and in companies. They present the results to each other. In this way they discover what fascinates them. This in turn gets them thinking about what they should and want to learn at school and what choices they have to make.
Modular design of FutureLab
FutureLab consists of several modules, including 68 Inspiration videos, the Core Values Game®, and the Future Lab Game®. The modular design and the games make the program as easy and flexible as possible to use at school, for example in mentor lessons, citizenship lessons, project weeks or as part of existing career and orientation programs.
Also a FutureLab at your school?
FutureLab is for schools in secondary and further education and is suitable for young people aged 12 and over. The program is tailor-made, fitting within the possibilities of the school. By training teachers (deans, mentors), they can guide FutureLab themselves and is it possible to give the program to several classes at once and repeat it annually. If you want to know more about the possibilities for FutureLab at your school, please contact me here.
FutureLab Vision document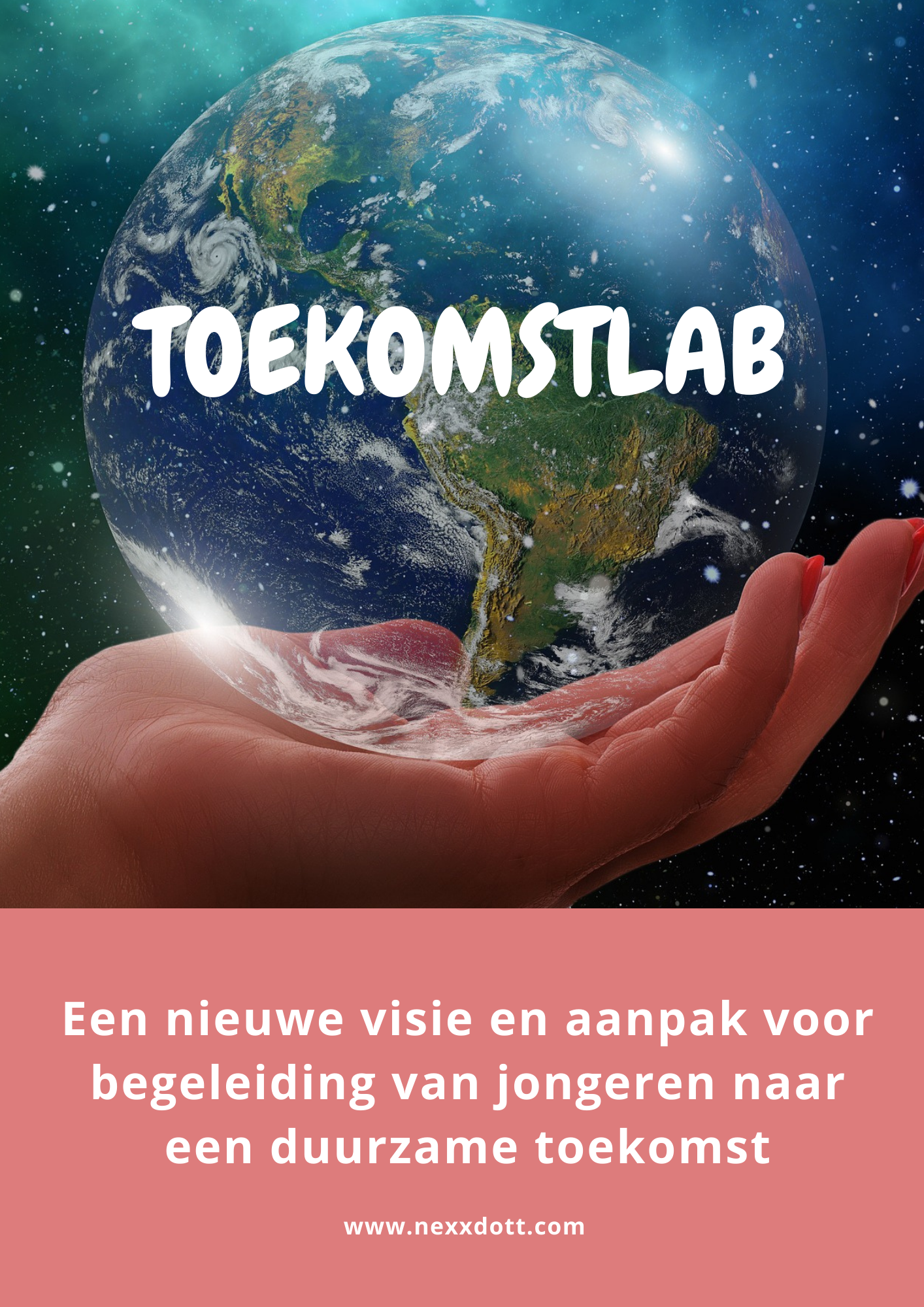 This free Vision document for schools explains why FutureLab was developed, how to incorporate FutureLab into the existing curriculum in your school, such as in mentoring classes, and how to guide it as a teacher.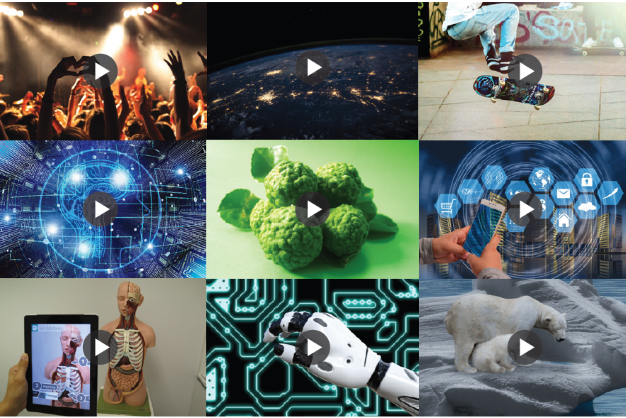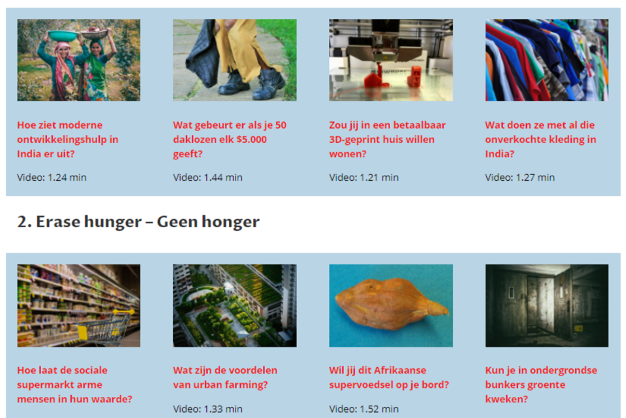 Module 1 of FutureLab consists of 68 Inspiration videos ranked under the 17 Sustainable Development Goals (SDGs) of the United Nations. The videos are freely accessible to everyone and will be refreshed from time to time.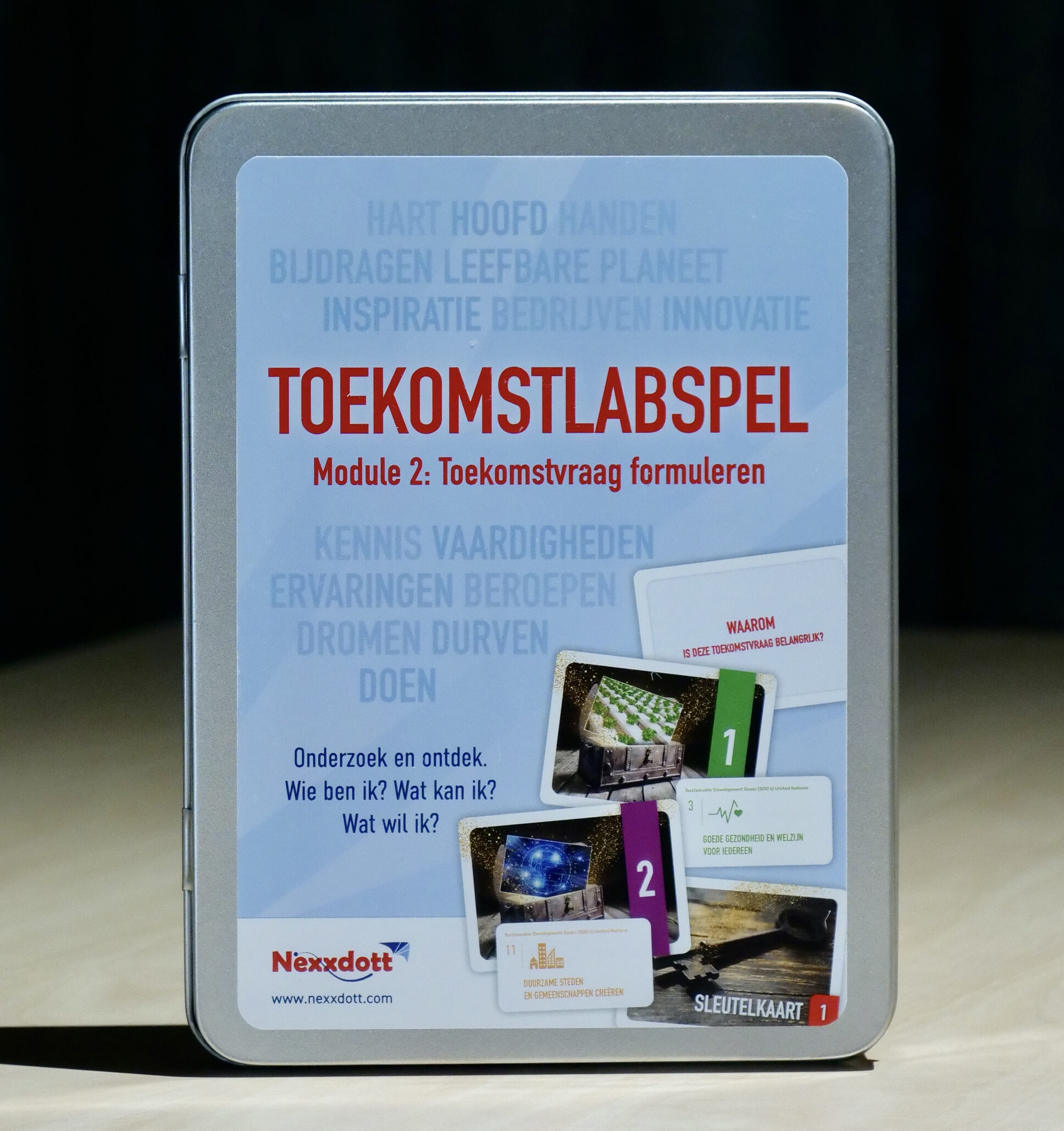 Module 2 is a Future Lab Game®. This game helps young people formulate their Future Question. The game can be ordered through this website. The game can be ordered separately or is part of FutureLab . 
FutureLab at the Vathorst College in Amersfoort
"At school we don't really look to the future that much," says a student at Vathorst College in the video about FutureLab. In FutureLab we do. Students search for answers to their personal Future Question by using Inspiration videos.
For most students, going on company visits is the highlight of FutureLab. They go to a company that they have usually searched for themselves and that fits their Future Question.
Experiences with FutureLab at Vathorst College in Amersfoort
Since 2016 FutureLab has been taking place at Vathorst College. In high school, the knowledge of developments in society and experiences with the outside world are still very limited.
Having different experiences and being inspired by them helps young people discover who they are and what suits them. FutureLab is designed to help students in this journey of discovery.
Michiel Westland, Dean Vathorst College:
"It forces students and teachers to step out of their comfort zone. It takes guts to work on your own development in this way. FutureLab is so well liked that we have incorporated the program into the curriculum."
Jonna (14)
"My company visit was really interesting. I got to go into the lab and interview the director!"
Lucie (16)
"I now know what further education I want to do."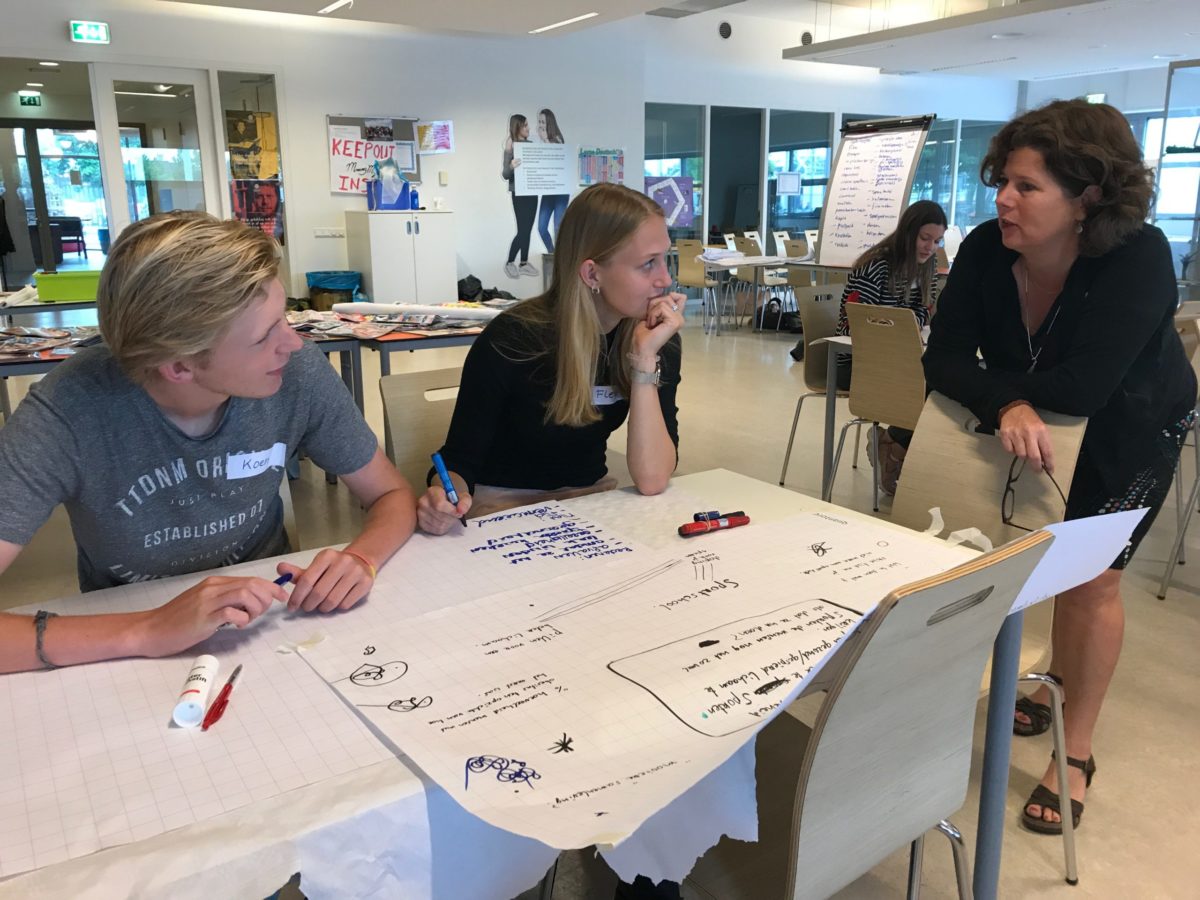 Personal interest for students is the stardust of FutureLab.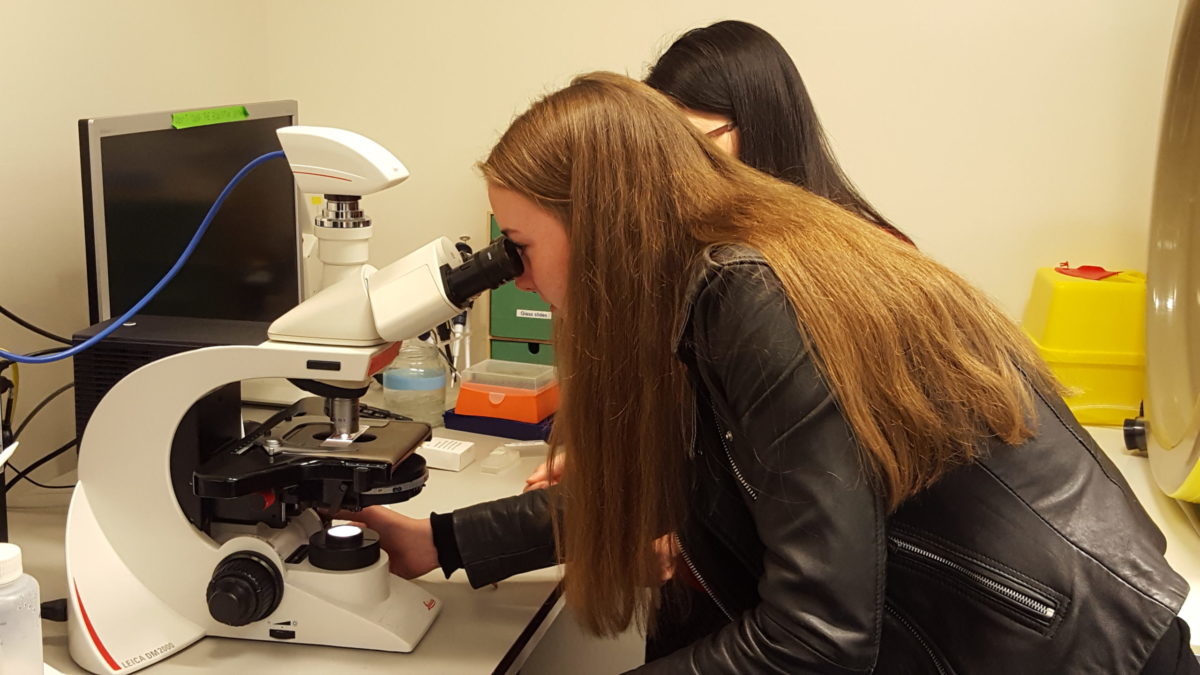 Pupil on company visit to a lab on the campus of Wageningen.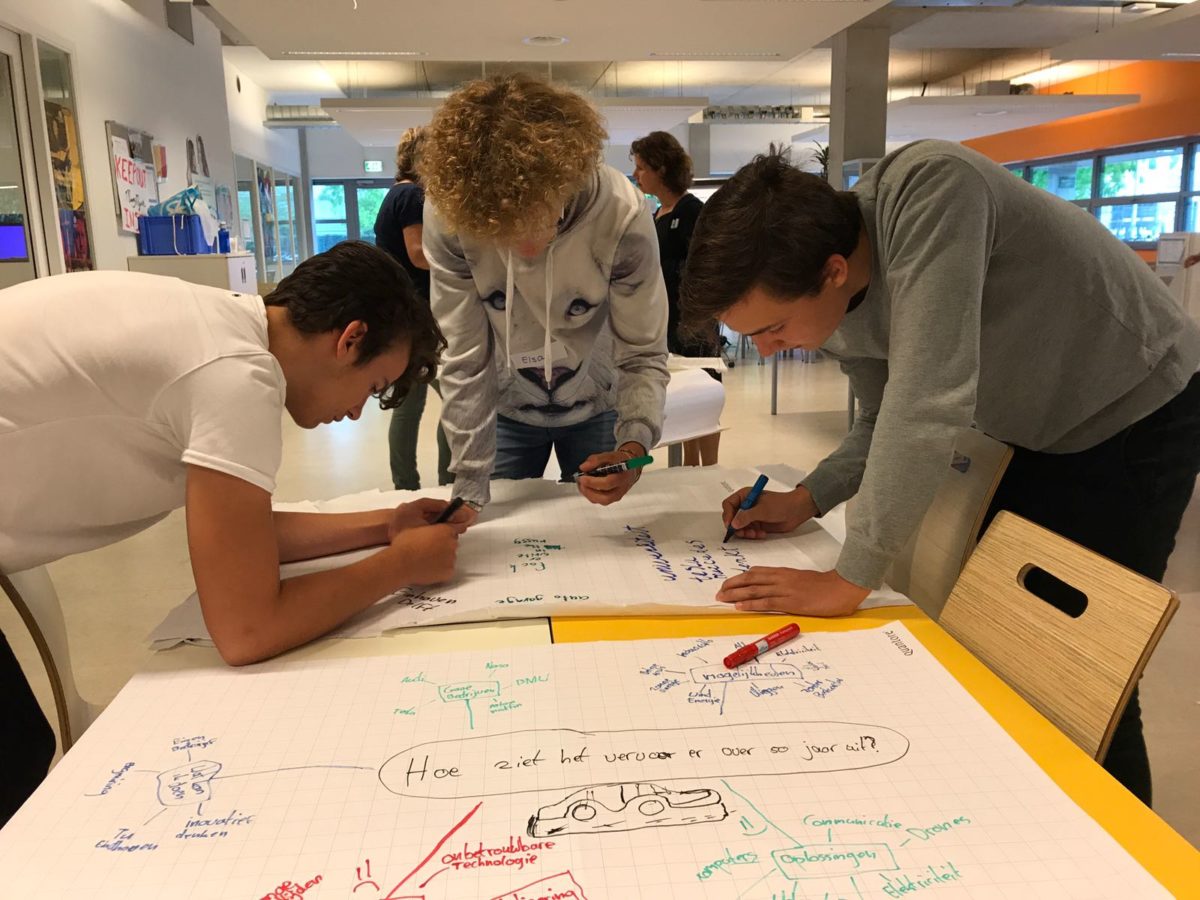 Pupils work together on a mind map about self-directed transport.
Cabral Institute
Private training
At Cabral a special FutureLab took place, where parents participated with their children. This led to interesting and open conversations between young people and their parents.
Martin (father):
"FutureLab is a first step that gets the ball rolling. I found the unique and beautiful approach of looking to the future very inspiring".
Martijn (19):
"I really enjoyed being there! For me, as a 19-year-old, the presentation and the discussions were the most important, because I learned a lot from them."
Karin (mother):
"A nice, varied program. With "Across the Line" as an intro, presentations and discussions, learned a lot''.